On Saturday 30th May 2020 I was supposed to be jetting off to Seville with my girls for my hen do, but of course this was cancelled due to Covid-19. I had been so excited and couldn't wait to go sightseeing, see a flamenco show and eat loads of tapas. So my lovely bridesmaid Laura-Jane sent me an invitation to my virtual hen do taking place the night before we were originally due to jet off!
I was told to dress up in white, wear my hen do veil and my bridesmaid sent me the sash and badges in the post. My mum dropped off some decor and a hamper full of cute gifts and sweeties, as well as all my favourite homemade tapas. When I logged onto zoom, with my tapas at the ready, they all had the matching Bride Squad glasses and my mum was holding a 'Zoomville' poster.
My bridesmaid had organised loads of games for us! So here's what we got up to...
We had 4 minutes to collect 20 of the most random items from around the house, it was hilarious. The items were as random as a teabag, a lipstick, a tin of beans and a toothbrush. My something blue was a bottle of vegetable oil. We were all rushing around while Madonna and Justin Timberlake - 4 Minutes played in the background.
This hen do game is a hilarious challenge at normal hen dos, now add in to the mix having to do it on yourself rather than as a team. It was even more ironic given the current demand for toilet roll!The neckline on my dress was inspired by Meghan Markle's evening dress (obviously). We did this challenge with 'Girls Just Wanna Have Fun' in the background which made it even funnier.
My fiance Matthew made an appearance for this one, I never thought I'd have my groom at my hen do... Unfortunately he got some of the questions wrong *eye roll*.
Guess the Celebrity Dress
This one is pretty self-explanatory, we had to guess the celebrity dresses - some of these were really hard!
This one was well into the evening... We went round each of us and had to give 3 names the others to choose from. At one point Boris Johnson and Dominic Cummings made an appearance - ew!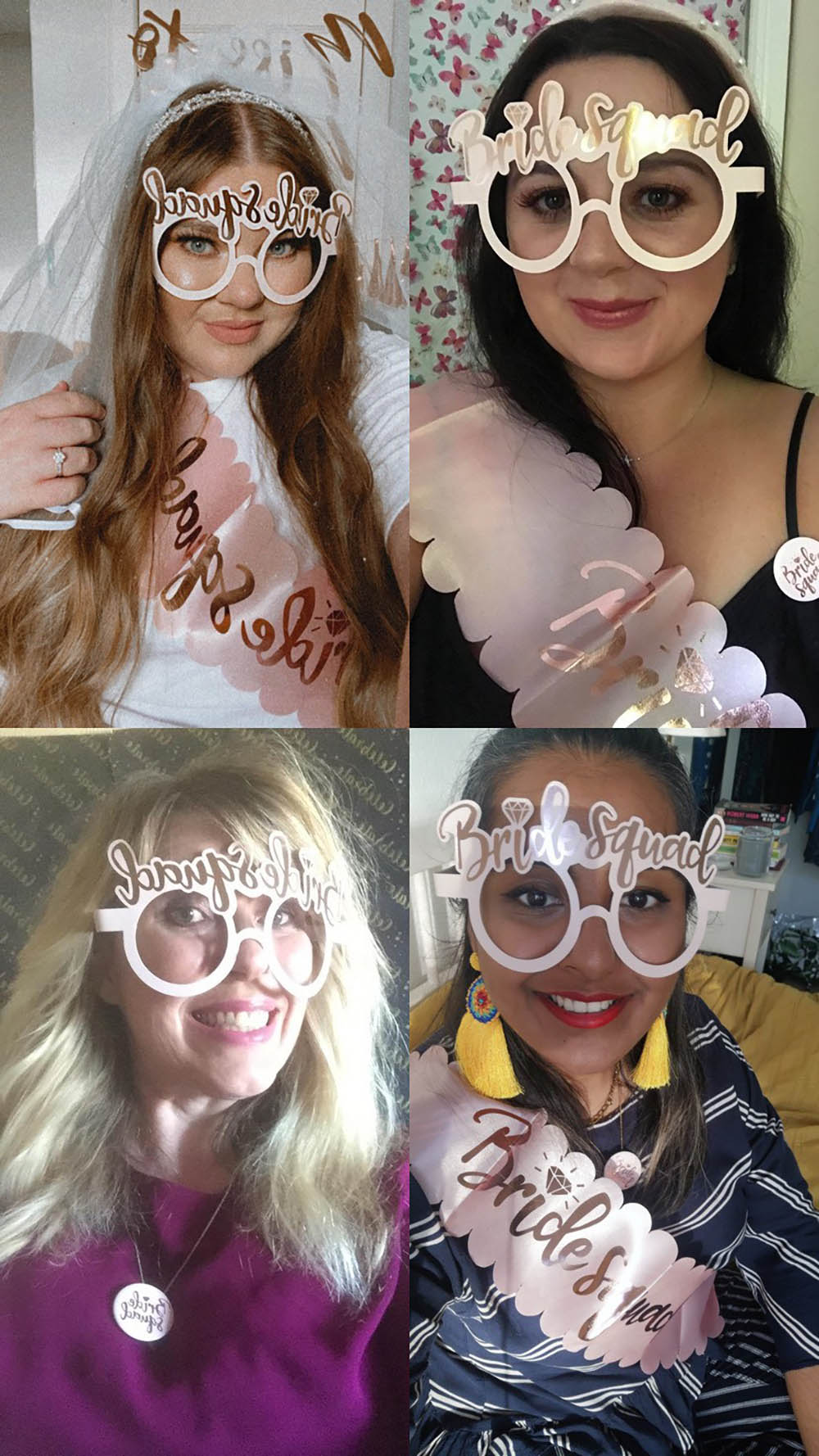 So if you're reading this and thinking of having a virtual hen do - do it! I hope this post has given you some inspiration. Round up your girls, chuck on your veil and play some games! I am so grateful to my mum and my friends for surprising me with this. I thought it might make me a little bit sad that I was missing Seville but it was so much fun, my cheeks actually hurt from smiling so much. Even though 2020 has been the worst year for us all, it's nice to look back on these photos and remember my 'lockdown hen do'. Plus, I got to put on some makeup and wear a bra for the first time in about a month!
I was so honoured my favourite wedding magazine, Scottish Wedding, wanted to feature my virtual hen do! You can read the article
here
.
Roll on Seville 2021!
From Lauren, With Love xo
P.S. I got some very funny looks from our neighbours when I went outside dressed like this to get a photo!
Skirt: New Look
Jacket: Topshop
Hairband: Jon Richard
Veil: Personalised by AJ
Mrs Necklace: AliExpress
Silk Face Mask: Florence Bridge
Party Tassel: Hooty Balloo
Miss to Mrs Banner: Home Bargains